For the purposes of education
For fair use only. Published under the provision of U.S. Code, Title 17, section 107.
If you have any questions or would like to contribute and/or discuss the copyright status of one of these works, please contact me.
Press "save" while in PDF to save these to your computer. Some may take a long time to load.
A Coming of Age: Albania Under Enver Hoxha
by James S. O'Donnell
About this book
Though anti-communist, this book has a fairly controversial thesis that Hoxha provided rapid modernization that was only possible under the aegis of the communist regime.
Albania Defiant
by Jan Myrdal and Gun Kessle
About this book
A left-wing Swedish view of communist Albania, mixing romantic history with contemporary (1969) observation and suffused with enthusiasm for the Hoxha regime and the Albanian people, regarded here as synonymous. The Swedish original appeared in 1970.
Amoral America: How the Rest of the World Learned to Hate America
by Robert W. Fearn
About this book
In 50 chapters, 750 pages and more than 500 pictures, this book tells the reader about American actions or policies that have created environmental disasters, poverty, illness, sadness and even death for millions of innocent people. Other books exist for virtually all of these issues but as far as we know, never in one book. American interventions in numerous countries as well as the overthrow of successful democracies are described in a readable, forthright manner. 'Amoral America' also discusses American government actions that have vigorously supported Weapons of Mass Destruction, Biological and Chemical Weapons, the Bombing of Civilians, Depleted Uranium, Global Warming, the War on Terror and weakening of the International Criminal Court, to name just a few. To foster this understanding and help create a more peaceful, prosperous and secure planet this book was written.
by Mamed Iskenderov
About this book
Published 1959, Part of a series on the SSRs, the fifteen Soviet Socialist republics.
In the early 1980s, the right-wing Reagan U.S. Government was determined to undermine or overthrow the leftist government of Nicaragua. As part of this campaign, the Central Intelligence Agency (CIA) produced a small illustrated booklet in both Spanish and English designed to destabilize the Nicaraguan Government and economic system.
by Bill Bland
About this book
Written in 1997 by Bill Bland, Class Struggles in China is about the Chinese state from 1949-1997, and how Maoist revisionism established a revisionist bourgeois regime from its very beginnings.
Economic Problems of Socialism in the USSR
By J.V. Stalin
About this book
Joseph Stalin's last major work before his death. This book would go on to be the economic blueprint of Socialist Albania.
by James Klugmann
About this book
A helpful guide to avoiding police and FBI repression.
Moscow Trial Transcripts 1938 (Full)
Programattic Proclaimation of the Soviet Revolutionary Bolsheviks
Spain: the Unfinished Revolution by Arthur H. Landis
Stalin's Speeches to CPUSA by J.V. Stalin
The Battle For China's Past: Mao and the Cultural Revolution Mobo Gao
The Facts About Soviet-Albanian Relations
The Soviet Union: Socialist or Social-Imperialist? Part I
The Stalin Constitution by I. Trainin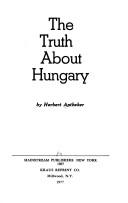 The Truth About Hungary Herbert Aptheker
About the book
A 1957 communist analysis of Hungarian Counter-revolution, weighing in at 256 pages.